Call for Applications for Advanced Certificate ,Diploma and Higher Diploma Programs 2023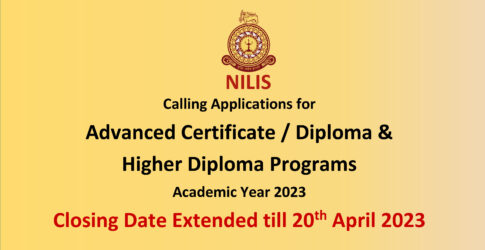 NILIS has advertised its Advanced Certificate (Level 2 of the Sri Lanka Qualifications Framework – SLQF) and Diploma (Level 3 of SLQF) courses for 2023.
Details and applications can be obtained from the table given below.
Program

Programme Information

Sinhala

Tamil

English

1
Advanced Certificate in Librarianship (ACL)
2
Diploma in School Librarianship (DSL)
3
Diploma in Library & Information Management (DLIM)
4
Higher Diploma in Library and Information Management 1 and 2 (HDLIM)
Fig. Sri Lanka Qualifications Framework introduced by the University Grants Commission of Sri Lanka (Source: SLQF 2016).